Newton Media offers its clients premium service podcasts and YouTube video transcription. Selected Czech podcasts and YouTube channels are divided into three packages according to the nature of the content – business, news, and reviews from the automotive industry.
Newton responds to the growing popularity of podcasts, of which more than 1,000 were created in the Czech Republic last year alone. Dan Tržil, the author of several podcasts and ceskepodcasty.cz catalogue administrator, currently registers 2,182 titles. "The number of new podcasts is doubling every year. We are not at the top yet," says Tržil.
On the one hand, there is growing number of creators, but on the other hand is also growing number of listeners. According to an October survey by the Nielsen Admosphere agency, most Czech Internet users (60 %) already know the term podcast or podcasting. "53 % of respondents, who know the term, listen to podcasts," says Tereza Šimečková, the chairwoman of Nielsen Admosphere board, adding: "15 % of listeners play a podcast at least once a week, and 5 % listen to a podcast daily."
There is also a growing interest in investing in podcast advertising, as companies find they can get users' attention for 60 to 90 minutes. According to a study by the Interactive Advertising Bureau (IAB) and PwC, podcast advertising revenue rose to $ 842 million in the United States alone last year, up 19 percent year over year. They are expected to grow up to one billion this year and even double in 2022.
"Our clients understand that podcasts are an opportunity for marketing and brand communication. We catered to them and included the most popular podcasts and YouTube channels into our services," says Petr Herian, the owner of Newton Media. Both recordings and their automatic transcripts are available in Newton's media monitoring and archive. "Tracked keywords are highlighted in the transliterated text. After clicking in the text section or on the timeline, the desired passage of the video or audio recording is displayed with an accuracy of individual words. Such accurate and user-friendly functionality is unique in our market. You don't have to listen to the whole hour-long podcast, but only the relevant passage where your product or company is talked about," adds Herian.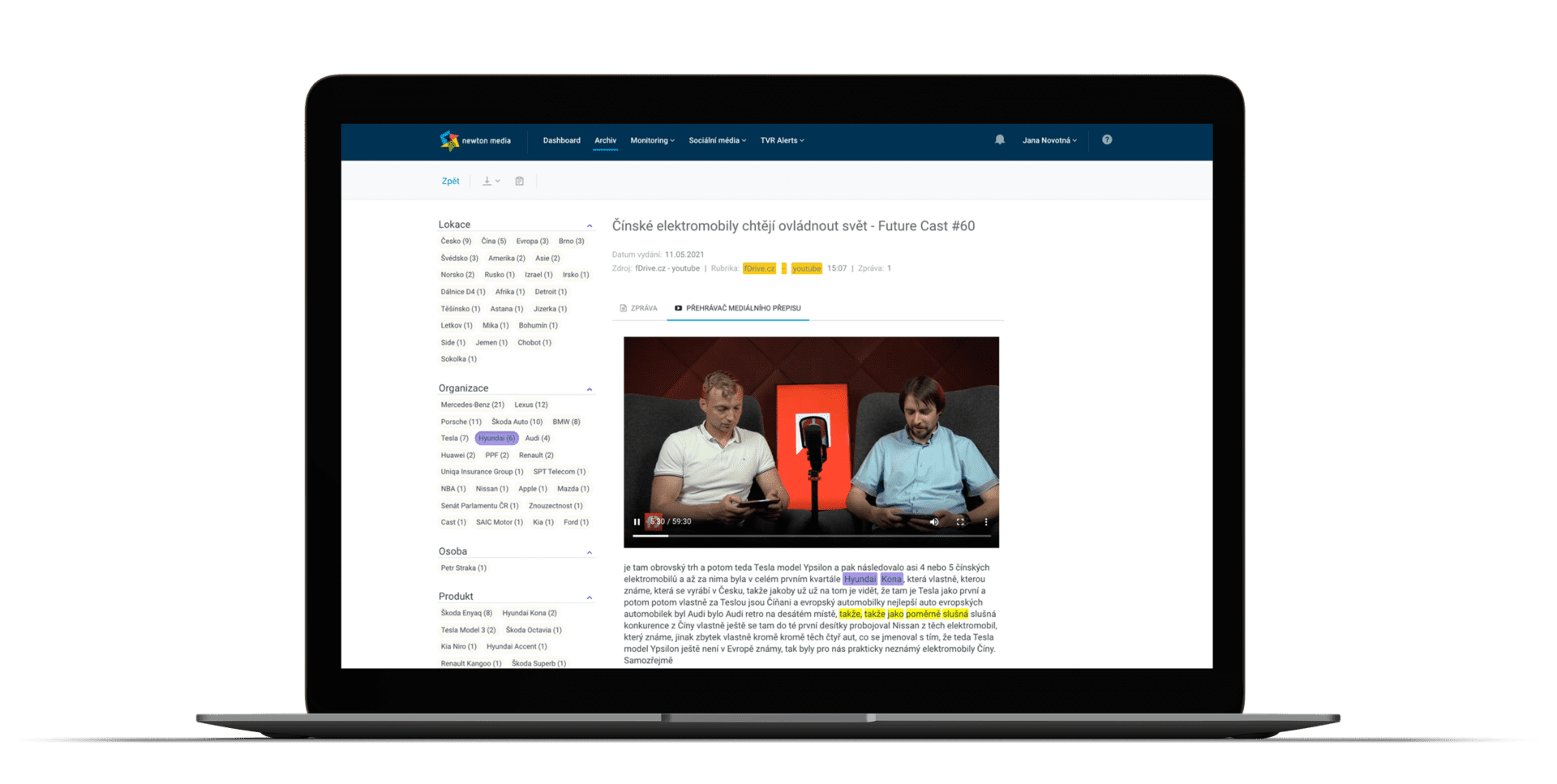 The monitored sources are sorted into three packages for better clarity: business, news, and automotive reviews. In addition to these packages, clients can add any other podcast or YouTube channel to their services that are important to their business. The novelty is set to provide all clients with the opportunity to add to the required resources, but not overwhelmed by podcasts and YouTube channels that are not relevant to them.
There have also been improvements in television and radio monitoring. Selected TVR shows are now automatically transcribed using the same text and recording motion functionality as podcasts and YouTube videos.
The podcast phenomenon will also be addressed in a free online webinar, which Newton Media is preparing for June 29 in cooperation with leading Czech influencers. "The potential of the podcasts will be presented by Dan Tržil, the author of the On the Wave of Business (Na vlně podnikání) podcast, Nikola Lörinczová, and Pavla Umlaufová, who are behind the podcast Píárko, and Tomáš Jirsa, the owner of the Boomers podcast agency and co-author of the Insider podcast," concludes Herian.