At the beginning of November, the media reported that the Polish e-commerce group Allegro had agreed to buy Czech online retailer Mall Group and the logistics company WE | DO. This is the fifth largest sale of a domestic company or its stake to a foreign owner in the last ten years in terms of the transaction value. We looked at how the traditional Czech media described the acquisition and compared reactions on Czech and Polish websites and social networks.
The acquisition includes the Mall Group and We|Do assets in the Czech Republic, Poland, Hungary, Slovakia, Croatia, and Slovenia. Therefore, we compared media coverage in the first four countries, particularly on news websites and in social media posts. Quite logically, the acquisition had the greatest response in the Czech Republic (808 contributions), followed by Poland (535 contributions). On the other hand, the interest was rather marginal in Slovakia (35) and especially in Hungary (4). However, the Czech Republic had the top coverage only thanks to the activity of Facebook and Twitter users because, in Poland, there were more online news articles, including mentions in related discussions.
Poles are more skeptical than Czechs
On Czech social media, the negative sentiment of contributions related to the acquisition (21%) was not surprising. People were mainly bothered by the transfer of another domestic company to foreign ownership. However, among Polish users, critical statements slightly dominated over the positive ones. The authors mentioned a negative experience of Poles with purchasing on Allegro. Other contributions showed distrust in the business skills of Allegro's management, and some people in comments expressed displeasure with the expansion itself (due to the quality of Czech products and problematic cooperation with the Czechs).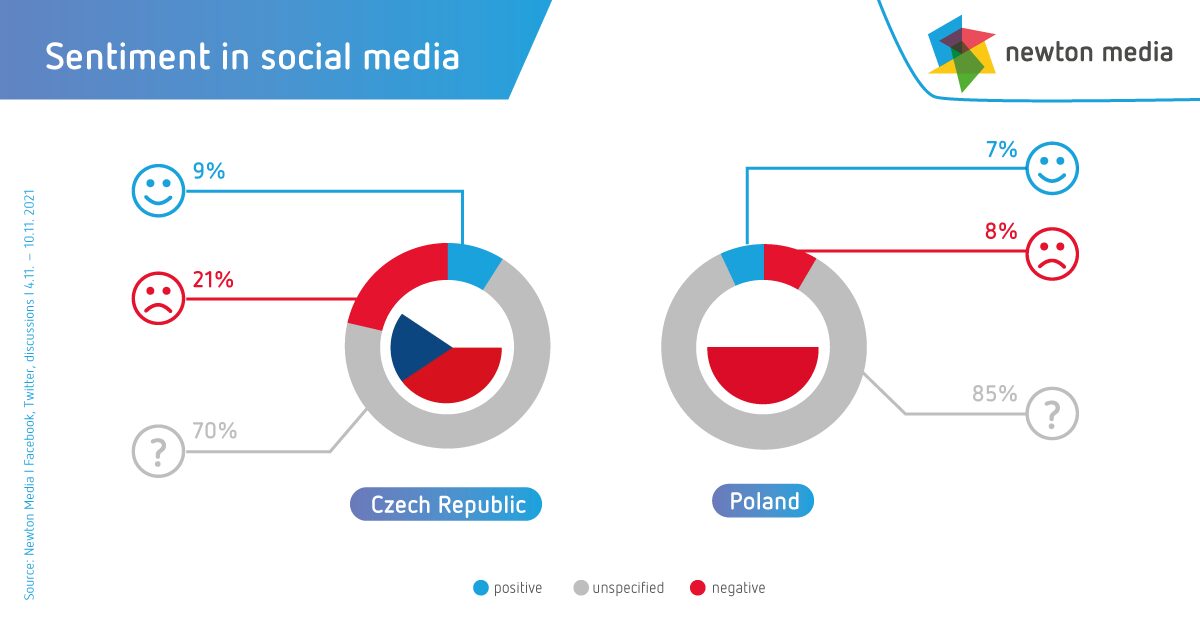 It was very surprising to learn that there were more positive comments from Czech users (65) than from Polish ones (23). As if the Czech customers of Allegro had a better experience with this e-commerce platform. Typical reactions included: "I have been buying on Allegro for many months, and all Czech e-shops could learn from it." Other customers wrote: "At least it will be easier to buy items from Allegro," or "That's good because Allegro is much better and more sophisticated." And also: "Allegro works very well in Poland, and for less than 300 CZK a year, you have free shipping. If Allegro introduces the same conditions here, it will be unbeatable."
How did Polish websites describe Mall Group, and how did Czech websites describe Allegro?
Czech online journalists felt urged to explain to the readers what Allegro was. As if they assumed that the Czechs had no experience with its services. Considering the examples of reactions on Czech social media mentioned above, this was an unnecessary concern. In most reports, the authors explained that Allegro is a "shopping platform" or "e-commerce platform", usually also specifying that it is a Polish entity. Two attributes Czech websites most often used to describe Allegro were "one of the largest e-commerce platforms in Europe" or "the most popular shopping platform in Poland". Both came from a press release issued by Rockaway Capital (owner of Mall Group) and Mall.cz on November 4.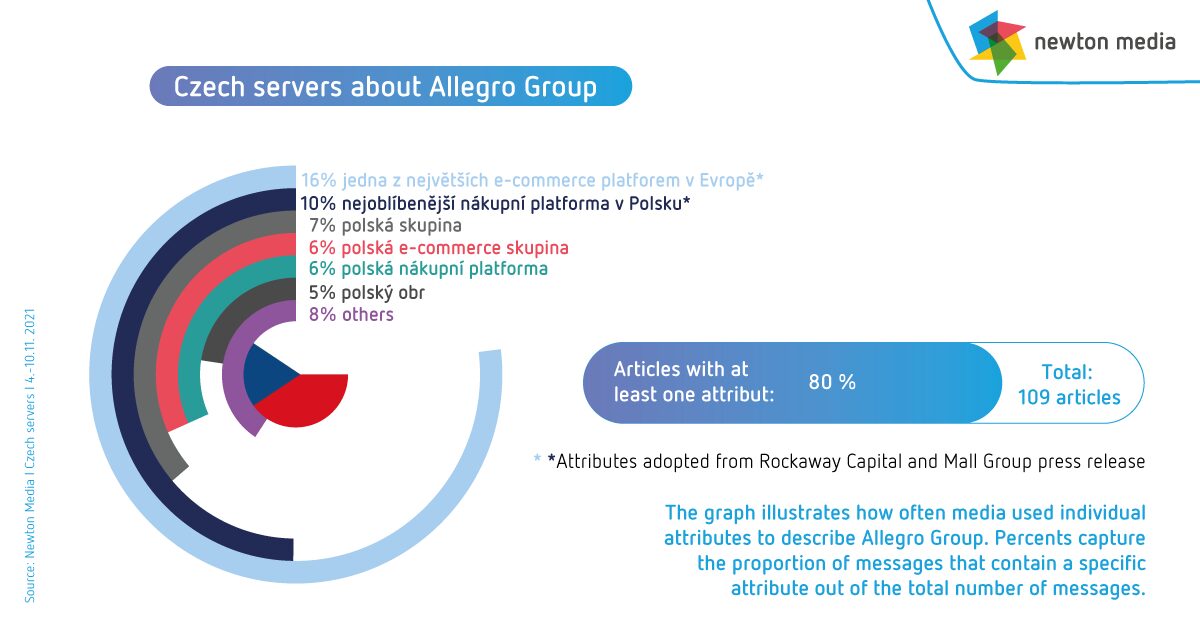 While Czech websites placed at least one explanatory attribute in 80 % of reports, their Polish counterparts burdened only 40 % of reports explaining what Mall Group is. As in the Czech environment, the attribute "platform" was most often used here. However, Polish websites worked significantly less often with the content of a press release published by the Polish company Allegro on November 4. This is supported by the relatively small occurrence of the explanation that the Mall Group is "one of the largest e-commerce platforms in Central and Eastern Europe". This attribute, which appears in the first sentence of the Allegro press release, appeared in only about 4 % of reports on Polish websites.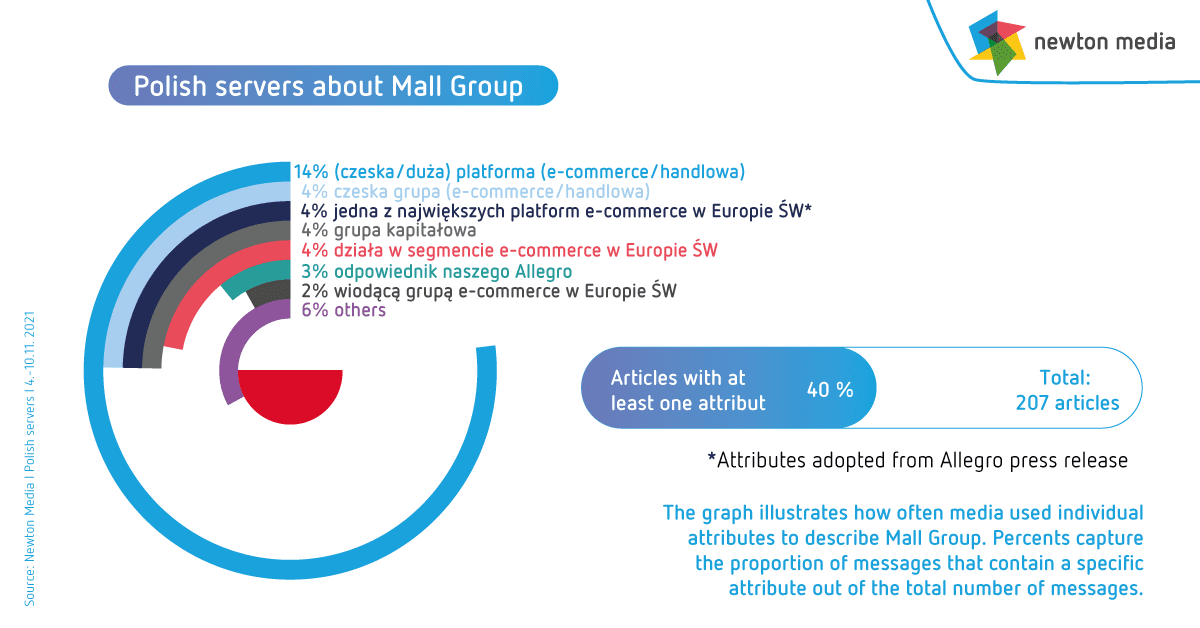 Author of the analysis: Dan Weidenhoffer